This shop has been compensated by Collective Bias, Inc. and its advertiser. All opinions are mine alone. #TryTENAMEN #CollectiveBias
November is National Caregiver's Month, a time when we recognize the challenges family caregivers face when their loved ones need caregiving around the clock. It is a huge task! And one that is no picnic for either the caregiver or the one that is being cared for.
You may purchased products by hovering over this image: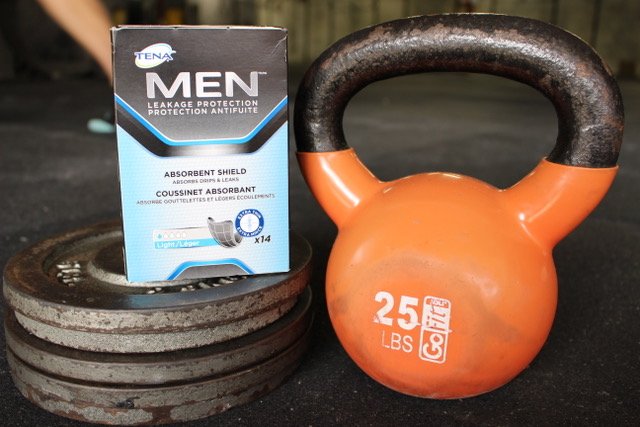 I remember caring for my dad in the months before he passed away. There is a sense of loss when you realize that there are things you just can't do for yourself. You've lost all or part of your independence. You've may have lost much of your privacy. And if incontinence is an issue, you may feel like you've totally lost your dignity.
I think it's particularly hard on men – whether it's just bladder leakage or full-blown incontinence. As women, we start experiencing some bladder leakage when we are pregnant or after having a baby. It's common. We joke about how we "pee a little" when we laugh or sneeze. There are commercials about products for bladder leakage in women. We don't like it, but it's not like it's some big secret.
Do men talk about their bladder leakage issues like women do? Maybe, but I don't see those conversations happening near as often. And that's a shame because bladder leakage IS NOT uncommon in men either. An estimated 3.4 million men experience the Unexpected Leak™. There is no shame in it, but that is exactly what a lot of men feel when they experience this issue.
If a man you care about is experiencing the Unexpected Leak™, pick up a box of TENA® MEN™ Protective Shield at CVS.  Designed with an ultra-thin thickness for comfort and a muted color for discretion, this product will protect against light drips and dribbles while letting him remain comfortable and secure.
Week of 11/05/2017 Buy 1 TENA product at CVS, Get 1 @ 50 % OFF
The caregiver:
According to the National Alliance on Caregiving:
More than 65 million people, 29% of the U.S. population, provide care for a chronically ill, disabled, or aged family member or friend during any given year and spend an average of 20 hours per week providing care for their loved one.
The typical family caregiver is a 49-year-old woman caring for her widowed 69-year-old mother who does not live with her. She is married and employed. Approximately 66% of family caregivers are women. More than 37% have children or grandchildren under 18 years old living with them.
I've been a caregiver and I have 3 friends who are caring for either parents or spouses right now. It's hard. It's never-ending. Their caregiving is an act of commitment and sacrifice that they willingly offer to someone they love.
But it is a lot for one person to handle. And even though many have family members who help in some way, more often than not, the bulk of that job usually falls on one person.
How to support a caregiver:
Most of us probably know someone who is serving as a caregiver right now. And there are ways you can support a caregiver and show your appreciation for all they do.
Connect with them. Caregiving can be very isolating. A card, a phone call or a text with a funny .gif or just a note saying you are thinking about them goes a long way.
Serve them

Ask "What is on your to-do list today?" and then do a couple of those tasks for them.
Put up their holiday decorations and when the holiday is over, take them down and put them away.
Hire a lawn service or cleaning service.
Pay for a month or two of grocery delivery service.
Take them a meal or give them a gift card to a restaurant that delivers.
If it is a situation where you can stay with the person needing care for a few hours, set up a time to do that to offer the caregiver some respite.

Treat them. Who doesn't love a treat? Flowers, a fancy cupcake from the bakery – any little something out of the ordinary can brighten someone's days. Or you can make a Caregiver's Gift Basket with items like this:
Hand cream – Caregivers wash their hands a lot and a healing hand cream is very soothing to hands that feel dry.
Healthy snacks – In performing all the tasks that are involved, it's easy to forget to eat. Healthy snacks like protein bars, trail mix and fruit are quick to grab when they have a minute and give them the energy they need.
Bath salts and a facial mask are perfect for a little pampering.
Herbal tea and an inspirational book to read for a minute or two of relaxation.
Chocolate. Is there any situation that is not helped by a little chocolate?
I picked up all these items at CVS. They have a great selection for all of these gift basket items at every taste and price point.
Do you know a caregiver who could use a little TLC? If you are a caregiver, what task or item would YOU add to the list?
SaveSave
SaveSave
SaveSave
SaveSaveSaveSave
SaveSave
SaveSave
SaveSave
SaveSave
SaveSave
SaveSave