I live in Texas where we won't see even a HINT of cool weather until late October. So while those of you who live north of us are enjoying your pumpkin spice lattes and wearing your cute new sweaters and boots, we're still in shorts, flip flops and running my AC 24/7. So what do those of us who live down south wear when we want an outfit that says FALL but it's too hot to wear cold weather clothing? Turns out there are lots of options with the currently trending  denim, animal prints and fall florals. Take a look at some of the Summer to Fall Outfits my favorite fashion bloggers put together!
This post contains affiliate links for your convenience. If you make a purchase through one of my links, I will receive a small commission at no extra cost to you.
Summer to Fall Outfits – Denim
Claudia from Empty Nest Style added a chambray shirt to her white jeans and tied it all together with a cognac cardigan, bag & shoes. Those accessories just say fall to me and I am loving how the whole "no white after Labor Day" rule has gone by the wayside.
Summer to Fall Outfits – Florals
We saw lots of florals this summer, many of which can go right into fall.
In my look, I shopped my closet and put together this look. I paired the LOFT floral tee that I wore all summer with my Wit & Wisdom Thyme Cropped Pants. I topped it with a denim jacket, which seems to be the most versatile third piece for any season. Tied it all together with olive booties and burgundy color purse.
This particular denim jacket is from Talbots and I love it so much. It has a bit of a shape, which is more flattering on me than those that are boxy. And it has some stretch, which makes it easy to move around in. I also have it in white!
I received my first pair of Wit & Wisdom Ab-solution pants in my Trunk Club shipment this summer and immediately loved the fit, stretch and tummy control.
My booties are from Walking Cradles, a great line of shoes that are comfortable and stylish. You can get 20% off and free shipping at walkingcradles.com with the code MySide20.
Fonda from Savvy Southern Chic is wearing a floral camisole, crop flare jeans and blush colored cardigan. The cardigan is lightweight and a great piece when the weather is hot, but the AC in stores and restaurants is cranked up high.  Notice her beautiful Kendra Scott necklace! I purchased this same one for my daughter's birthday at the Nordstrom Anniversary Sale. It is gorgeous and very versatile. Follow Fonda on Instagram.
For a different kind of floral top, Suzy from Empty Nest Blessed is wearing a navy top with floral embroidery with blush jeans and camel booties. I am seeing lots of blush as a neutral this fall. And booties are a great way to add some fall to your wardrobe without heating things up! Follow Suzy on Instagram.
Summer to Fall Outfits – Animal Print
Jess from Elegantly Dressed & Stylish wears a ¾ length blouse with jeans and accessorizes it with an animal print clutch and scarf. Jess incorporates another fall trend by wearing a blouse in a menswear inspired print. And the pattern mixing she does here is so interesting a looks great. Follow Jess on Instagram.
Regan from Nifty 50 and Fabulous and Suzanne from Crazy Blonde Life both had the same idea for early fall in the south! Black tops and pants with animal print accessories.
Regan wears her animal print scarf as a wrap and Suzanne adds a leopard print clutch and booties! So cute! Follow Regan on Instagram.
Suzanne carries on the theme here with a semi-sheer animal print blouse and black distressed jeans. Belts are all the rage this fall and hers adds an extra touch of zing to a very classy fall outfit. Follow Suzanne on Instagram.
What about you? Is it warm where you live? What are you wearing for the summer to fall transition?
You might also like:
7 Chic Ways to Turn Your Summer Clothes Into Fall Outfits
Think You Can't Wear Stripes? | 9 Head-Turning Ways To Wear Stripes That Will Make You Look and Feel Fabulous
And guess what? I am the featured guest on this week's Ageless Style Linkup! Check out how all of these ladies styled fall outfits in their favorite colors!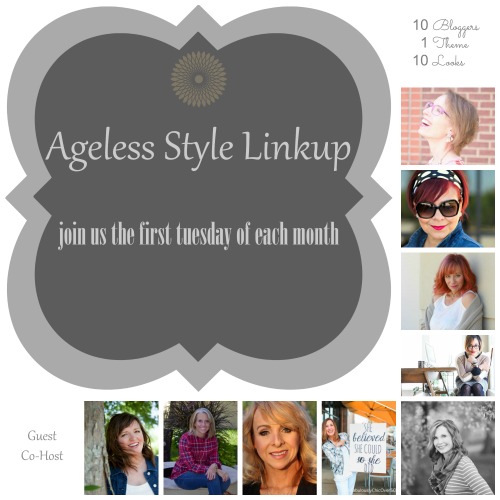 Daenel ~ Living outside the Stacks blog, instagram, pinterest, twitter
Debbie ~ Fashion Fairy Dust bloglovin, blog, instagram, pinterest, facebook, twitter
Jennie ~ A Pocketful of Polka Dots blog, instagram, facebook, pinterest, twitter, bloglovin
Jodie ~ Jodie's Touch of Style blog, facebook, instagram, pinterest, bloglovin, twitter
Jonet ~ Fabulously Chic Over 50 blog, facebook, , instagram, pinterest, twitter
Kellyann ~ This Blonde's Shopping Bag blog, instagram, bloglovin, twitter
Lisa ~ Coast to Coast blog, facebook, instagram, twitter, pinterest
Paula ~ Dimples on my What blog, facebook, pinterest, instagram, twitter
Tie A Scarf 3 Ways!
Like to accessorize with scarves, but bored with the way you are tying them? Subscribe to My Side of 50 and get 3 Fashionable Ways to Tie a Scarf TODAY!